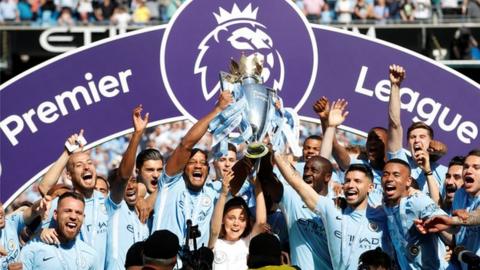 Manchester City have broken Chelsea's record for most points in a Premier League season and there is no team since us that has deserved to do it more.
The champions have been so dominant for huge parts of the season and it would be a great contest if they could play our Chelsea side – we reached 95 points in 2004-05 – because of the contrasting styles.
City have more fluency in terms of passing – their possession football is some of the best the Premier League has seen and they press higher and smother teams more than we did.
However, we get a raw deal in history in terms of the quality of our play that year. Some people say it was a bit methodical, but it wasn't. We were fantastic. We had lots of possession and quick wingers, as well as a real toughness about us and a spirit that gave us an edge.
It is tough to decide which team would win but here is my combined XI…
Goalkeeper
Petr Cech (Chelsea)
An easy decision. I really like Ederson and he is fundamental to how Manchester City play from the back, but you can't go against Petr Cech, purely on consistency. In 2004-05 he was particularly good, but he also did it over a long period of time. That year the defence was fantastic, especially with Petr at the back. He was one of the best keepers in the world at the time – if not the best – a top professional and great in the dressing room.
Defenders
Right-back – Kyle Walker (Man City)
Paulo Ferreira was incredibly consistent for Chelsea – you'd put your house on him to give a good performance. But Kyle Walker has developed this year at City after joining from Tottenham. Pace gives him the edge, both in terms of his speed of recovery and getting forward. I've been very impressed with him this year and the move has helped him improve his quality on the ball as well.
Centre-back – Vincent Kompany (Man City)
A great leader, strong in the tackle, incredibly brave and very difficult to beat one-on-one. He would have been a great foil for John Terry with his pace. They're both very forceful defenders in the middle of the team and have fantastic personalities.
Centre-back – John Terry (Chelsea)
John would be captain of this team. I played a long time with him and he was a hugely impressive captain. He always had an imprint on the first team and the squad behind the scenes and was a fantastic player. He had everything – maybe not major speed, but he made up for that and more with his positional sense and his determination. He was also underrated on the ball and was a great passer with both feet.
Left-back – William Gallas (Chelsea)
Gallas played left-back a lot in 2004-05 because next to John we had Ricardo Carvalho, who was also a brilliant centre-back. Gallas wouldn't be able to open up and give you too much going forward because naturally he's right-footed, but his pace was frightening, so I'd have him and Walker either side. Gallas was also very difficult to beat in one-on-one situations and scored some important goals for us from set-pieces.
Midfielders
Defensive midfield – Claude Makelele (Chelsea)
He was such an influence on my career. Playing next to him gave me a guarantee to get forward. Fernandinho has been particularly good this season at City and it's slightly amiss leaving him out, but I'm going on longevity. After achieving great things at Real Madrid, Makelele came to England aged 30 but was instantly integral to our team and up to speed with the pace of the game. Countless times he would intercept it in front of our back four and pass quickly and simply, which is what some can't manage to do in that role. They want to do more and have more touches. Makelele shifted the ball to people who could do better in attack than himself.
Centre-midfield – Kevin de Bruyne (Man City)
De Bruyne is as good a passer as the Premier League has seen, easily splitting defences. He could score more goals but that doesn't take away from what he's done for City this year and his overall improvement. He's one of the best midfielders in the world on current form and he's still relatively young at 26. In terms of assist makers, I'm not sure there has been a better one in the Premier League.
Centre-midfield – Frank Lampard (Chelsea)
I won't talk about myself! It felt great to win the title that season. In 2010 we were very strong but, as a unit, that year was probably our strongest. We were all young and hungry. The system suited me fantastically well with Makelele slightly behind and we played with wingers, which opened up a lot of space for me to get forward and join Didier Drogba. It took my confidence to a different level. We were successful in the Champions League, I was scoring regularly and feeling a real part of the team – so that was a massive year for me.
Attacking midfield – David Silva (Man City)
I could easily have put in Arjen Robben or Damien Duff, but I can't leave David Silva out – he's a magician on the ball. He's happy to receive it in tight areas and has got one of the best first touches in the game. He's integral to City because he always wants the ball and it encourages everyone else in the team to receive it in tight areas and that creates lots of chances. Silva is one of the best players in the Premier League era.
Strikers
Didier Drogba (Chelsea)
Drogba is one of my first picks. He was massively influential, grew in stature at Chelsea as his career went on and won us the 2012 Champions League and many a cup final almost single-handedly. He was a great character in the dressing room and an all-round striker – he could hold the ball up, would score great goals and I knew I could make runs off him. He was a talisman for us.
Sergio Aguero (Man City)
Aguero is the best natural goalscorer I played with. He scores every kind of goal round the box, he's quick and a lethal finisher. He can get you a goal in a tight, tough game and he's even better against the good teams when the smallest things make the difference. His pace and quality around the box really impressed me that year I was at City – and he's been doing it for a good few years now.
Do you agree with Frank Lampard? What would be your combined XI?
Pick your combined team from the list below!
Frank Lampard was speaking to BBC Sport's Jack Skelton.