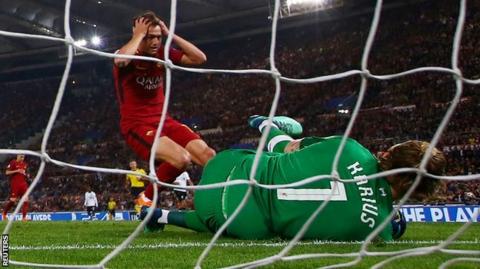 I was accused of being negative for saying Liverpool needed to manage the game better at half-time of their Champions League semi-final second leg against Roma.
I wasn't being negative, I just wanted them to do the right thing. Sometimes, they need to stop focusing on scoring goals.
They might be 1-0 up against Real Madrid in the final and have to defend, and I want them to defend properly, not leave themselves so open.
The point I was trying to make was that, as much as everyone loves the breathtaking football that Liverpool play, there are times when they have to make themselves difficult to beat.
I am not saying they should have tried to kill the game when they were 7-3 up on aggregate against Roma, more that they cannot just stay on the front foot, spending all their time attacking. It is not physically possible to do it for 90 minutes.
I am sure one of the things their manager Jurgen Klopp was saying to them at half-time in Rome was to be smart. The way to do that is to keep the ball, and also to keep your shape.
In the first half of Wednesday's second leg, Liverpool did not do that. They charged forward and kept having to run back 60 yards to make a last-ditch tackle when they lost possession.
'Liverpool feel they can score at any moment'
When you get wrapped up in the game, you want to score more goals but, whether it is your manager or your leader on the pitch, someone needs to say 'no, let's have a little period of 10 or 15 minutes where nothing happens'.
If nothing happens, then it means you are not conceding.
The problem with Liverpool, if you can call it that, is that they never take that approach. They focus on attack and feel they can score at any moment, because generally they can.
When they are playing well, their attack is unstoppable but even when they are not, they are still a threat. In the second half at Stadio Olimpico, Mohamed Salah was caught just offside on three or four occasions and could have had a very different evening.
In the end, Liverpool lost on the night – the first time they have been beaten in Europe this season – and only won by a single goal on aggregate.
The 4-2 scoreline was a little misleading because it suggests they were put to the sword in Rome, when that really wasn't the case.
I still would not say the Reds were comfortable until the final 15 minutes, though. Part of that was down to them making life difficult for themselves.
The front three can score against any opposition so, if the rest of the team could just kind of sit in and do their jobs properly then they should win games far easier than they have been.
A very different task awaits in Kiev
I don't think you can relate what happened in Rome to the final because, in terms of game management, they are just completely different situations.
Away goals play a massive part in the semi-finals and the point is just to get through them. Of course Liverpool would have preferred to win 7-4 on aggregate rather than 7-6, but they are through so it does not really matter.
The focus of the final is different as it is a one-off match and this year we have got two teams who want to outscore each other.
A lot of the time we hype up these big European finals as being a feast of football and they end up being anything but. This game has got a real chance of living up to expectations.
It is not just because of the playing style of Real and Liverpool, it's the fact that both their strengths are going forward, and both of them are vulnerable defensively too.
No Coutinho, but Liverpool look stronger
Jurgen Klopp has been picking strong teams in the Champions League all season, which made me think he always believed he could win it.
If people are being honest, I doubt many other people felt the same way about the Reds. If you had asked me at the start of the season, I would have said 'no chance'.
They scored a lot of goals in the group stages but the old defensive failings were still there and when Philippe Coutinho left Anfield to join Barcelona in January, I thought that was the end of that.
I also expected Roberto Firmino would struggle when Coutinho was sold – instead he has got stronger and stronger.
The two legs of the quarter-final against Manchester City were both key because if there were any doubts they could perform at that level, they were quickly dispelled.
Now the whole team has belief as well as momentum and I can just imagine Klopp tells them every day in training that they can go all the way. He is absolutely convinced they can.
For me it is 50-50. You could make a compelling case for either Liverpool or Real to win in Kiev.
If Salah, Firmino and Sadio Mane have a great day then they will destroy Madrid but Real have the players to do the same to Liverpool too.
Mark Lawrenson was speaking to BBC Sport's Chris Bevan.