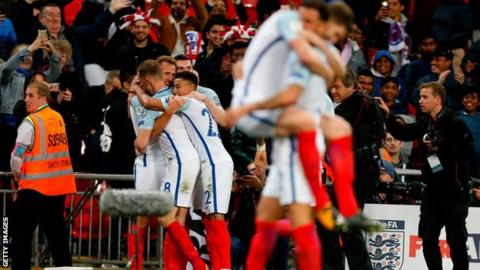 England's opening two 2018 Fifa World Cup group matches against Tunisia and Panama will be broadcast live across BBC television, radio and online.
Gareth Southgate's side face Tunisia in Volgograd on Monday, 18 June at 19:00 BST before playing Panama in Nizhny Novgorod on Sunday, 24 June (13:00).
Both Group G games will be broadcast on BBC One, Radio 5 live and online.
Euro 2016 champions Portugal's Group B game with Spain is also on the BBC at 19:00 on Friday, 15 June.
England's final group match against Belgium on Thursday, 28 June at 19:00 will be shown live on ITV, who will have first pick in the last 16.
The BBC will have the first two choices of quarter-final games, including England's if they progress that far.
Both BBC and ITV will broadcast the final live from Moscow on Sunday, 15 July at 16:00.
Reigning world champions Germany open against Mexico on Sunday, 17 June, and viewers will be able to watch that game live on the BBC.
Plan your World Cup: Fixtures in full
Philip Bernie, BBC head of TV Sport, said: "We're delighted with our selection of matches, which sees the BBC bring England's first two games of the competition live to our audiences – as well as their potential quarter final.
"We are also very pleased to be showcasing the skills of the world's best players, Lionel Messi and Cristiano Ronaldo, in five of their group matches. The BBC is proud to be offering such an enticing array of games on football's biggest stage, as we look to deliver to audiences unprecedented, extensive access to World Cup content across TV, radio, online and social media."
Niall Sloane, ITV director of sport, said: "Once again, the World Cup starts on ITV with the host country's opening game on 14 June and we have live coverage of some of most outstanding matches drawn from the group stages with England v Belgium as well as all three of tournament joint favourites Brazil's games."
Ticket sales for the World Cup resume on 5 December at 09:00 GMT and fans can apply here.
World Cup group games live on the BBC (all times BST)
15 June: Egypt v Uruguay (13:00)
15 June: Portugal v Spain (19:00)
16 June: France v Australia (11:00)
16 June: Peru v Denmark (17:00)
17 June: Germany v Mexico (16:00)
18 June: Belgium v Panama (16:00)
18 June: Tunisia v England (19:00)
19 June: Colombia v Japan (13:00)
19 June: Russia v Egypt (19:00)
20 June: Portugal v Morocco (13:00)
20 June: Uruguay v Saudi Arabia (16:00)
21 June: Argentina v Croatia (19:00)
22 June: Nigeria v Iceland (16:00)
22 June: Serbia v Switzerland (19:00)
23 June: Belgium v Tunisia (13:00)
24 June: England v Panama (13:00)
24 June: Japan v Senegal (16:00)
25 June: Spain v Morocco (19:00)
25 June: Iran v Portugal (19:00)
26 June: Iceland v Croatia (19:00)
26 June: Argentina v Nigeria (19:00)
27 June: South Korea v Germany (15:00)
27 June: Mexico v Sweden (15:00)
28 June: Senegal v Colombia (15:00)
28 June: Japan v Poland (15:00)