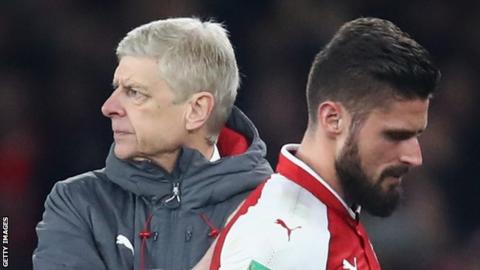 Arsenal's £60m move for Borussia Dortmund forward Pierre-Emerick Aubameyang could hinge on two more transfers being agreed.
And Gunners striker Olivier Giroud may have the biggest say in whether the deal is completed before Wednesday's 23:00 GMT deadline.
Arsenal have agreed a fee with Dortmund and personal terms with Gabon international Aubameyang, 28.
But Dortmund will only sanction the move if they get a replacement.
France international Giroud, 31, was lined up to be that player, but he would rather remain in London.
A timely offer from Chelsea appeared to give him a chance to stay in the capital – and Dortmund switched their attention to Chelsea's Belgium forward Michy Batshuayi, who would welcome the move.
In turn, Chelsea would take Giroud from their London neighbours.
January sales: The dos and don'ts for a successful transfer window
Batshuayi, 24, has been used mainly as a substitute at Chelsea and wants first-team football in a World Cup year.
However, the Blues have baulked at Arsenal's asking price for Giroud – a reported £30m-£35m.
Chelsea consequently held talks with Tottenham Hotspur to swap Batshuayi for their 32-year-old Spain striker Fernando Llorente.
Spurs were keen on permanent deal, though Chelsea preferred a loan move.
Yet that outcome has been scuppered by Batshuayi's need for first-team football. With little chance of him being able to dislodge Spurs' main striker Harry Kane – the Premier League's top scorer – he rejected the approach.
Batshuayi is unwilling to go from back-up at one club to the same role at another.
If Arsenal are not able to reach an agreement with Chelsea over Giroud, Aubameyang's move will rely on Dortmund finding a suitable alternative elsewhere.
If no replacement is found, he will stay at Dortmund – as the German club have previously indicated.
Arsenal boss Arsene Wenger is fond of Giroud, but the Frenchman has been told he will not get game time at Emirates Stadium club and knows he needs to be playing if he wants to go to the World Cup.
Arsenal are looking for Aubameyang to replace Chile forward Alexis Sanchez, who joined Manchester United earlier this month in a swap deal with midfielder Henrikh Mkhitaryan.