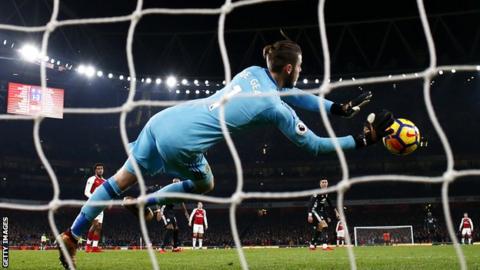 Arsenal had 15 shots on target, but only one beat the inspired David de Gea.
Manchester United boss Jose Mourinho said it was a "world's best" performance from his goalkeeper.
Gunners boss Arsene Wenger said the "absolutely outstanding" Spain international was "man of the match by a clear mile".
De Gea's remarkable showing was crucial to United's 3-1 victory on Saturday – and it meant he equalled a Premier League record.
His 14 saves were the joint-most in a single Premier League game – matching former Newcastle keeper Tim Krul and ex-Sunderland stopper Vito Mannone.
Most saves in a single game since August 2003 (when Opta began collecting this data)
There was another interesting stat to come out of Saturday's scintillating match in north London – to do with expected goals.
If you don't know about expected goals, it's a way of judging how many goals a team should score based on the quality of chances they create. We wrote in detail about it in August.
Arsenal's failure to beat De Gea more than once saw the Gunners chalk up the biggest difference between goals scored and expected goals since the metric first appeared at the start of this season.
The quality of their chances meant that ordinarily a team would score five times, but instead they got just the one – when Alexandre Lacazette smashed in from six yards out.
Biggest differentials between expected goals and goals scored
Man City's midfield leader
De Bruyne (verb)
1. To thunder a long-range shot into the top corner with either foot.
"she really De Bruynered that"
2. To provide an absurd number of assists over a two-year period.
"nobody De Bruyners like De Bruyne De Bruyners"
It's true – nobody does.
Manchester City's 26-year-old midfielder got his eighth assist of the league season so far with a telling final ball for David Silva to arc home in Sunday's 2-1 win over West Ham.
It was just another example of the brilliant vision we have come to expect from the Belgium international since he returned to England two years ago, having left Chelsea in January 2014.
Analysis: Total belief, squad unity and late goals – who can stop Man City?
And he's consistent too – that's him up to 35 league assists for City since his debut for the club in September 2015.
No player across Europe's 'top five' leagues (England, France, Germany, Italy and Spain) has set up more goals in that time, with Arsenal's Mesut Ozil close behind.
The race to the bottom
The 2013-14 campaign ended painfully for Liverpool – they missed out on the title by two points – and it was cruel on Martin Skrtel.
The then Reds centre-back scored four own goals between August and May – the most by any player in one Premier League season.
On Saturday, Brighton defender Lewis Dunk scored his third own goal of the season so far as his side were thrashed 5-1 by Liverpool – and we're only just in December.
His games-to-own-goals ratio is one every five matches.
But we shouldn't start thinking about his place among the Premier League's most prolific just yet – it wouldn't be fair as he's only played 15 games, and is still to reach a landmark five own goals.
Former Charlton defender Richard Rufus tops the Premier League ranking.
His five own goals in 99 matches leads the list at a ratio of one every 19.8 games.
And the most Premier League own goals of all time? That's ex-Manchester City centre-back Richard Dunne, with 10.
Games per own goal in the Premier League (at least five scored)
How long?
The last time Crystal Palace scored away from home in the league was when Christian Benteke's 74th-minute strike sealed a 2-1 victory over Liverpool at Anfield in April.
It's all gone downhill from there.
Even though Roy Hodgson has steadied the ship somewhat since Frank de Boer's 77-day stint, Palace still can't score on the road.
They've now gone 10 away games without finding the net – matching the 1923-24 efforts of West Brom, whose 10th goalless away match came on Christmas Day in 1923.
Palace still have a way to go before rivalling the 13 away days over which Preston North End failed to score during the 1921-22 season.
Hodgson's next three trips on the road? Leicester, Swansea and Southampton.
Top-flight goalless away runs
Five managers, five clubs, one winner
Saturday saw two managerial debuts at two struggling clubs.
Alan Pardew started life at West Brom with a 0-0 draw at home to Crystal Palace, while Everton's Sam Allardyce era began with a 2-0 win over Huddersfield Town at Goodison Park.
In taking over at The Hawthorns, Pardew became the fifth manager to have worked for five Premier League clubs – following Allardyce (seven), Mark Hughes (five), Roy Hodgson (five) and Harry Redknapp (five).
And the man who comes out on top in the head-to-head? It's Redknapp – the guy with the longest track record does not lie.