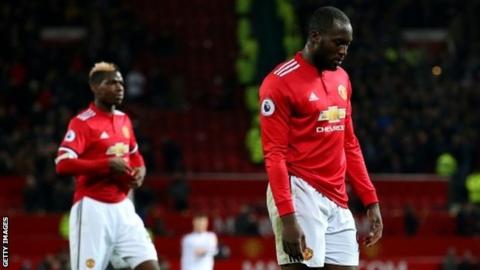 Manchester United boss Jose Mourinho says the £300m he has spent on his squad so far is "not enough" after their 2-2 draw with Burnley on Tuesday.
Jesse Lingard scored an injury-time equaliser and the draw leaves United 12 points behind leaders Manchester City.
"We are in the second year of trying to rebuild a football team that you know is not one of the best teams in the world," said the Portuguese.
"Manchester City buy full-backs for the price of strikers," he added.
Mourinho was appointed United boss in May 2016 and broke the world record last summer to sign £89m midfielder Paul Pogba, plus £30m defender Eric Bailly and midfielder Henrikh Mkhitaryan for £26.3m.
This year's big deal was £75m striker Romelu Lukaku, as well as £31m defender Victor Lindelof and £40m for midfielder Nemanja Matic.
"[Spending £300m] is not enough. The price for the big clubs is different than for the other clubs. The big historical clubs are normally punished in the market because of that history," he said.
"The boys are doing what they can and they are doing fine."
Mourinho was asked if eight points from the past five games was good enough for a club like United.
He responded: "When you tell a club like Man Utd, do you think Milan is not as big as us? You think Real Madrid are not as big as we are?
"I know what a big club is. One thing is a big club and another thing is a big football team. They are two different things.
"When you speak about responsibilities to win the Premier League, Tottenham doesn't have that responsibility because they are not a club with the same history as us.
"Arsenal don't have the responsibility to win it. Chelsea don't have the responsibility to win it. When you speak about big football clubs, you are speaking about the history of the club."