Bournemouth were 'overly optimistic' in plans to move into new stadium by summer 2020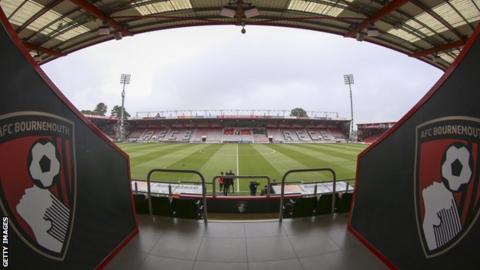 Bournemouth have said they will not be moving into a new stadium by summer 2020, saying they were "overly optimistic" in their plans to do so.
In December 2016, the club announced plans to build a new ground near their current home within King's Park.
Their current ground, the 11,450-capacity Vitality Stadium, is leased from property company Structadene.
"Any future developments will be undertaken around a healthy financial strategy," the club said.
"With regard to the developments, when we have a reliable timeframe we will make those facts known."
In May, manager Eddie Howe said Bournemouth will "never see the benefits of the Premier League era" unless they move to a new ground.
The Cherries were promoted to the Premier League for the first time in 2015 and finished 12th last season.
They had hoped to have the new stadium completed in time for the 2020-21 season.
"We were overly optimistic that a new stadium would be completed by the summer of 2020," the club said in a statement from the shareholders and board of directors.
The Dorset club, owned by Russian businessman Maxim Demin, have also had plans for a new training ground complex approved by councillors at Borough of Poole.
"Part of the club's vision includes, in time where resources allow, to build first-class facilities for the squad, staff and supporters," the club added.
"We have demonstrated our commitment to this with the purchase of land for the development of a new multi-million-pound training ground."