Lyon vow to ban supporter for Nazi salute at Manchester City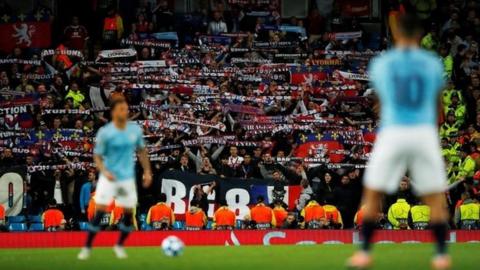 French club Lyon have vowed to ban for life a fan who appeared to give a Nazi salute during the team's Champions League win at Manchester City.
The gesture was caught on video and shared on social media, where it attracted widespread condemnation.
The club responded by saying it had seen the video and was working to identify the supporter.
"As soon as he is identified, he will be excluded for life," the club said in a statement.
Lyon beat Manchester City 2-1 at the Etihad Stadium in Wednesday's Champions League Group F opener.
Police say they are investigating reports of fighting between fans near City's Etihad Stadium.
Footage on social media showed around 20 supporters clashing in the street outside a shop.
"An investigation has been launched and officers are working closely with both clubs," said a Greater Manchester police spokesperson.
Meanwhile, two people were arrested for affray before the match following a disturbance in the city's Northern Quarter at about 18:40 BST.