'Sturridge is a £50m player – when he is fit and firing, you cannot ignore him'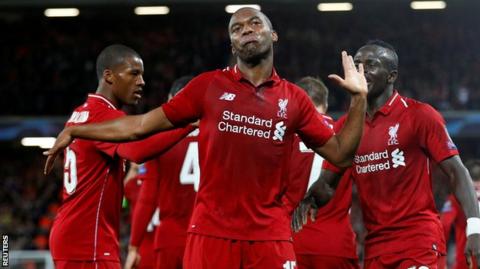 If Liverpool are going to challenge on multiple fronts this season then Daniel Sturridge is going to play a big part for them – and he showed why in their Champions League win against Paris St-Germain.
You could argue that Sturridge might have had more than one goal with the chances he had, but the reason he got those opportunities was because of his awareness in the box and his movement into the right areas.
Yes, he might not give you the work-rate off the ball that you get from Roberto Firmino, who is incredibly clever with the way he presses the opposition.
But Sturridge brings something different to the team in that he is a natural talent on the ball as well. When he gets possession, you expect things to happen – and he did not disappoint against the French champions.
'Sturridge must know his role, and take his chance'
Sturridge's time at Liverpool has had lots of disruption from injuries, particularly under Jurgen Klopp, and there were huge questions over his future at the club last season when he went out on loan to West Brom in January.
When you are in that situation as a player, and it looks like your days could be numbered, there is only a way back if you really want it.
Having that desire is the big thing that Sturridge demonstrated, long before he scored the opening goal at Anfield on Tuesday.
In pre-season, when Reds boss Jurgen Klopp wanted to see him fit and hungry, his attitude was exactly right. I watched him a lot and his performances were impressive too.
That is why Klopp handed him his first start in a Reds shirt since November 2017 because, when you get Daniel fit and firing, you cannot ignore him. We are talking about having a £50m player at your disposal because he is potentially a world-class striker
Of course, it is important that he knows his role at the club because if Liverpool's front three of Sadio Mane, Firmino and Mohamed Salah are in form, they are still going to play most of the games.
But all players need a rest, especially when you are in Europe and the games come thick and fast, and there are going to be times when Sturridge, and others, will get their chance.
Salah, for example, is not looking 100% at the moment – he appeared tired in the last 20-25 minutes against PSG.
So that was an opportunity for Xherdan Shaqiri to come in as an impact substitute and, just like Sturridge being handed a start, he had to make the most of it.
'Nights like this are the reason he stayed at the club'
The signings that Liverpool made in the summer are a big reason why I think they will believe they can go one better in the Champions League this season after finishing runners-up last time out.
The people who were there last season can look around the dressing room and see they have got better players around them now.
And the beauty of having real depth to their squad is that the players who are in the team know they have to perform to keep their place.
Sturridge is not a new player of course, but having him fit and in form has been so rare recently that he might as well be.
I was made up for him to get his goal and he fully deserved his standing ovation when he came off for Firmino in the second half.
Klopp gave him a big hug before he sat down, and in the media conference afterwards praised his work-rate and said he is in the best shape he has seen him in.
All of that will give Sturridge a big boost in confidence and of course he will have enjoyed himself too, because nights like this are the reason he stayed at the club.
I heard him speaking over the summer about how, when he went to West Brom, he realised what he was leaving behind.
He did not want to lose what he had at Liverpool because he knew it would not be the same, so he went at it full tilt over the summer to get himself in the best possible shape in order to stay.
Tuesday's game – his first Champions League start since March 2012 when he was at Chelsea – was his reward. He repaid the faith his manager had in him with a brilliant performance, and I am sure there is much more to come.
'Plenty to be positive about, not just individuals'
Sturridge was not the only Liverpool player to impress me, but Klopp had more than just individual performances to be pleased about.
The manner of their victory was important too, especially when you consider they had just let a 2-0 lead slip away.
When PSG equalised in the 83rd minute, I was thinking 'well, this is a draw now' but Liverpool still pushed forward for a winner.
You could argue it was a dangerous way to play, especially against a team of that quality, but Klopp wanted the three points and he got them thanks to Firmino's stoppage-time strike.
When Klopp and his players reflect on the night, it was a hugely important result for them, and not just because it puts them in a strong position at the top of Group C.
After going so close to winning it a few months ago, Liverpool might have needed something to give them the belief that their run to the final can happen again.
They got it with this performance, against a PSG side that has been built to win the Champions League and is expected to go far in the competition.
That win was a big statement to the rest of Europe too – that Liverpool are looking to hit the same heights as last season.
It is not guaranteed they will manage it, of course, but they have showed they still have the hunger and desire they will need.
Stephen Warnock was speaking to BBC Sport's Chris Bevan.