Kovacic set to join Chelsea as English clubs get ready for transfer deadline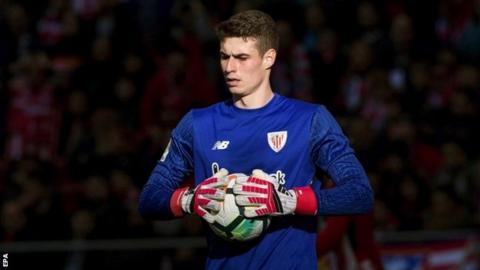 Premier League clubs are getting ready for their earliest deadline day yet – with all English signings having to be done by Thursday at 17:00 BST.
The Premier League and Football League voted to shut the window before the start of the top-flight season, which kicks off on Friday.
Premier League spending during this window has already hit £1bn but is unlikely to match last year's £1.4bn.
Football League clubs can sign loanees and free agents until 31 August.
The change does not affect European clubs, who can still sign players – including Premier League ones – until their respective deadlines later in the month.
BBC Sport will guide you through all of the moves on the big day. Our live transfers page will be up and running from 07:00 BST, while BBC Radio 5 live will bring you all of the latest deals, rumours and news.
And every confirmed transfer will be on our list.
What moves are we expecting on deadline day?
Chelsea are set to confirm the loan signing of Croatia midfielder Mateo Kovacic from Real Madrid, with goalkeeper Chelsea goalkeeper Thibaut Courtois set to join the Spanish club.
On Wednesday, the Blues signed Courtois' replacement by paying £71m deal – a record for a goalkeeper – to sign 23-year-old Spaniard Kepa Arrizabalaga from Athletic Bilbao.
There are no other transfers that seem inevitable on deadline day – but plenty of top clubs are still looking to sign players.
Tottenham are the only Premier League club not to sign a single player this summer despite manager Mauricio Pochettino saying at the end of last season they would need to "take risks" to improve.
The Argentine wants to add to his squad but will he be able to get any deal done in time? He wanted Aston Villa midfielder Jack Grealish, who is understood to be furious at being priced out of a move to White Hart Lane.
Real Madrid also reportedly want Chelsea winger Eden Hazard – while Willian says he wants to stay at the club after being linked with a move away. The Blues are unlikely to let any of them go unless they sign a replacement on Thursday. They have only signed one first-team player since Maurizio Sarri's appointment as manager.
"Like Willian, Hazard is world class now and, if Chelsea are to have a successful season, then Sarri cannot afford to lose either of them," BBC pundit Matt Upson said after the Community Shield.
Arsenal and Liverpool did their business early and are not expected to make any more big signings – but both sides' managers say players could yet leave to trim their squads.
Newcastle boss Rafael Benitez has had another frustrating transfer window, while Burnley's three signings have all come in the final few days.
The early deadline means any signings will be able to feature in the opening games of the Premier League season – which begins with Manchester United v Leicester on Friday (20:00 BST).
In Italy, Inter Milan are being strongly linked to Real Madrid midfielder Luka Modric – but no Premier League clubs would be likely to let the European champions sign a midfielder to replace the Croat if that move happened after the English deadline.
What's going on at Manchester United?
BBC Sport's Simon Stone
Jose Mourinho has made it clear on more than one occasion he expects at least one addition to his Manchester United squad before the deadline shuts.
Yet there is the very real possibility he may end up with no-one.
Given a choice, England's Harry Maguire is the player United would really like.
For that deal to go through, Leicester would have to lower their asking price and there was no sign of that happening as the transfer window entered the final 24 hours.
United have been heavily linked with Tottenham's Toby Alderweireld but as of Wednesday evening, my understanding was there had still been no bid.
Barcelona's Yerry Mina looks set for Everton, which leaves Jerome Boateng.
It is understood Boateng is willing to move to Old Trafford, that Mourinho would like him, and that Bayern would be willing to sell.
However, the negotiations that have taken place centred around a loan, something neither Bayern or Boateng were keen on.
Why is it deadline day already?
The move comes after all 72 EFL clubs moved in line with the Premier League, which voted in September 2017 in favour of closing the window before their season starts.
Managers have complained that signing players once the season is under way causes disruption to their squads and preparations.
However, the vote was not unanimous, and clubs will still be able to sell players until the end of August. While the Football Association has moved the goalposts for English clubs, Fifa's official deadline remains Friday, 31 August – meaning English clubs can still sell players abroad, but cannot replace them.
Pochettino has said his side are at a "complete disadvantage" with the rest of Europe.
Italy also has a new deadline – Friday, 17 August – the day before Serie A begins.
The top leagues in Spain, Germany and France – as well as Scotland – all keep a transfer deadline of 31 August.
Has this window been busier as a result of the changes?
In a word. No.
The number of transfers in the summer window has been dropping each year since 2014 – but this year has seen a dramatic fall.
There were slightly more transfers, 27, in June this year than past years [one more than 2015] – but July saw just 37 compared to 52, 57, 46 and 55 in the past four years.
Clubs do not appear to be squeezing lots of transfers into this short window – there have only been 14 in August at the time of writing [Wednesday at 22:30 BST].
What are the big moves of the summer?
The biggest signing of the summer came on Wednesday night when Chelsea announced the arrival of goalkeeper Kepa Arrizabalaga from Athletic Bilbao for £71m.
It was a club record and a world record fee for a goalkeeper – surpassing the £66.8m Liverpool paid to sign Alisson from Roma on 19 July.
Manchester City were another of nine clubs to break or equal their club record signing with the £60m purchase of Leicester winger Riyad Mahrez – the biggest initial fee this summer.
Alireza Jahanbakhsh to Brighton, Jean Michael Seri to Fulham, Terence Kongolo to Huddersfield, Felipe Anderson to West Ham, Adama Traore to Wolves and Jefferson Lerma to Bournemouth were all club records – and Burnley equalled theirs when they signed Ben Gibson. In fact the Hammers broke their record twice this summer.
So which clubs have spent the most? The answer – beyond runaway leaders Liverpool – might surprise you…
And a few you might have missed
With plenty of focus on the World Cup this summer, there will be plenty of transfers that have gone under the radar. Expect to hear a few shouts of "who is this guy?" on the opening weekend.
How closely have you been paying attention to the transfer window? Take our quiz below to test yourself.
Can you name these 12 transfers you might have missed this summer?