'Heading should be limited in professional football & banned for under-18s'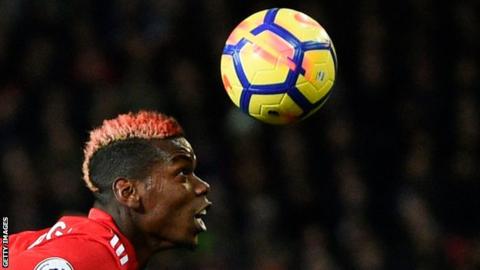 Heading a football should be restricted in the professional game and banned for those under the age of 18, according to one of the world's leading experts on brain injuries.
Dr Bennet Omalu discovered the brain disease chronic traumatic encephalopathy (CTE).
The condition has long-term effects and is caused by repeated head trauma.
"It does not make sense to control an object travelling at a high velocity with your head," Dr Omalu said.
"I believe, eventually, at the professional level we need to restrict heading of the ball. It is dangerous."
Speaking to BBC Radio 5 live's Phil Williams programme, Omalu added: "No child under the age of 18 should be heading the ball in soccer.
"Kids under the age of 12 to 14 should play a less contact form of soccer which we should develop for them. Kids between 12 and 18 can play but should not head the ball.
"I know this is difficult for many people but science evolves. We change with time. Society changes. It is time for us to change some of our ways."
An inquest into the death of former England and West Brom footballer Jeff Astle ruled he died from brain trauma caused by heading heavy leather footballs.
He died in 2004, aged 72, after suffering with Alzheimer's for almost 10 years following his 16-year football career.
On Wednesday, his daughter Dawn repeated calls for the game to investigate possible links between CTE and the heading of footballs.
"This is fact now. We are not just assuming other players may have died of the same illness as Dad, this is now fact," said Dawn.
Her latest comments come after the death of Rod Taylor, a former wing-half with Portsmouth, Gillingham and Bournemouth, who died in April having suffered from the condition.
Several high-profile ex-players have also been diagnosed with dementia, including 1966 England World Cup winners Nobby Stiles, Martin Peters and Ray Wilson, Liverpool legends Ron Yeats and Tommy Smith and Celtic's European Cup-winning captain Billy McNeill.
Speaking about the effect heading a football has on the head, Omalu said: "The human brain floats like a balloon inside your skull so when you head the ball you suffer brain damage. You damage your brain when you head the ball.
"Playing soccer would increase your risk of suffering brain damage when you are much older and developing dementia and CTE."
There have been a number of moves across professional sport to combat head injuries.
Concussion substitutes have been introduced to county cricket this summer, allowing teams to replace a player who has concussion or suspected concussion.
There have also been studies done into the subject in American football and boxing.