'£50,000' Harry Kane fiver spent in off licence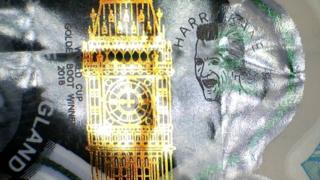 A £5 note engraved with the image of England striker Harry Kane has gone into circulation in Merthyr Tydfil.
Micro-engraver Graham Short made six of the notes after Kane won the Golden Boot for scoring the most goals during the 2018 World Cup.
He used the note at a shop in Cefn Coed last Wednesday.
The artist previously etched Jane Austen on to new £5 notes when they were first circulated – and those have been valued at £50,000.
He uses very fine needles to scratch the images into clear sections of the notes. They remain legal tender – so it is up to sharp-eyed customers or shopkeepers to see if they have one.
Mr Short, from Birmingham, chose Merthyr Tydfil because his father was born in nearby Dowlais.
The shop's owner didn't notice the image of Kane – and handed the note to another customer in change.
Mr Short's other notes were spent in Meriden in the West Midlands, and the Elephant House in Edinburgh – where JK Rowling used to write. A fourth note will be spent in Northern Ireland.
Mr Short gifted the other two notes to the Football Association and to Tottenham Hotspur forward Kane himself.
Harry Kane's portrait put on £5 notes
'£50,000' fiver sent in Christmas card
What happened to the fivers 'worth £50,000'?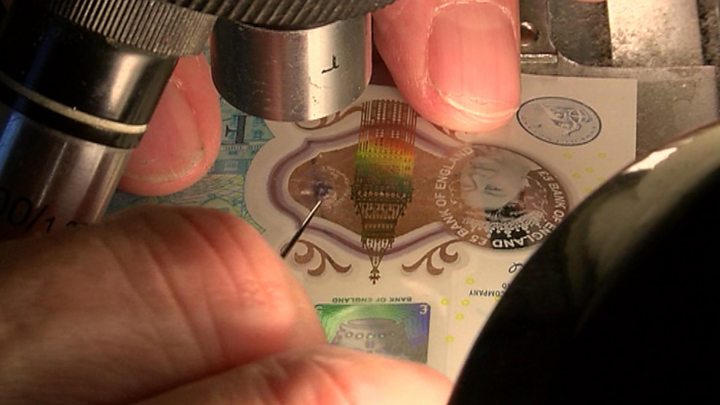 He said: "I wanted someone [in Merthyr] to find it who perhaps needed the money, and they can perhaps sell it for whatever – holidays or Christmas."
"I like the magical feeling of it and just want people to be as excited as I am," he added.
"It's just a bit of fun, but it also puts my art beyond the walls of a gallery. My art sells for a lot of money now and it's really out of reach for most people.
"But if they find this and sell it and make a lot of money, I'll be really pleased with that."
Manpreet Kaur, who owns the off licence where the note was spent – but failed to spot it for himself – said: "You don't think. Someone will give you a note and then another customer comes in and needs a five pounds note.
"That's why I missed it."