US Open has learned from 2004 Shinnecock farce, says organiser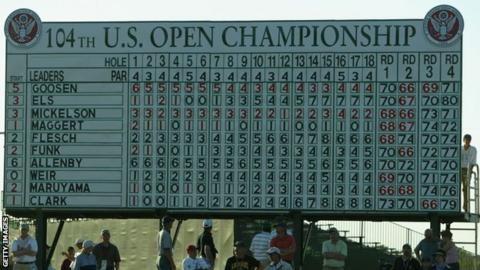 This year's US Open will not descend into the farce it became in 2004 when Shinnecock Hills last hosted the major, says event boss Mike Davis.
The par-three seventh green was called "unplayable" and had to be watered during the last round after two players putted off the green into bunkers.
Only winner Retief Goosen and runner-up Phil Mickelson finished under par.
"We look back on 2004 and we admit, we as an organisation erred," said United States Golf Association head Davis.
"In that final round in 2004, we were seeing well-executed shots not only not rewarded but in some cases penalised. That's not what we want."
The USGA, which organises the US Open, prides itself on providing "the ultimate test of golf" according to Davis, on a course set up "as close to the edge as any other event in golf".
The 2018 edition gets under way on Thursday, 14 June.
What went wrong in 2004?
After Saturday's third round, two-time US Open winner Ernie Els called the seventh green "ridiculous" and "unplayable".
The greens across the course were already running incredibly quickly on Saturday, as the USGA had stopped watering the course following round one – and were then dried out further by overnight winds.
But it was at the seventh where there was most controversy during a final round where no player broke par and 28 of the 66 finishers shot 80 or above on the par-70 layout.
Americans JJ Henry and Kevin Stadler were the first two players to take on the 189-yard par-three.
Henry's par-putt from eight feet missed and rolled into a bunker, while Stadler, who had chipped out of a bunker to three feet, saw his par-putt lip out and also end up back in the sand. Both players walked off with sixes.
Henry, who shot a respectable 76 in the circumstances to finish third last on 26 over par, maintained both players "did not hit a bad shot" on the hole.
Davis was standing beside the seventh green 14 years ago and while he was not responsible for the set-up of the course, he did call an immediate suspension in play after the next two players signed for a triple and double bogey.
He later said: "When I took the flagstick out and walked back off the green, people started throwing things at me.
"I literally got hit by cups and paper and all sorts of things. It was dreadful. I still feel awful about it."
Mixed feelings for Mickelson
The order came for the seventh green to be watered between groups, which clearly helped the later starters with par scores for both Mickelson, playing in the penultimate group, and Goosen – in the final group.
However, on Monday, Mickelson recalled: "The barometer for watering the seventh green was: Did anybody make double or triple?
"If nobody double or triple-bogeyed in the group in front of you, the green did not get water. If your group made a double or triple, the green got water for the group behind you."
The 47-year-old, a six-time US Open runner-up who is again chasing the sole major he needs to win to achieve the career Grand Slam, parred the seventh but was left to rue a double-bogey five on the par-three 17th as he finished on four under, two behind South African Goosen.
Shinnecock Hills, on Long Island, New York – which is hosting the US Open for a fifth time and is the only one to have hosted in three different centuries (1896, 1986, 1995 and 2004) – will retain its par-70 despite being extended by 449 yards to 7,440 yards.
Mickelson likes the added length at the par-four 14th, but has criticised lengthening the par-five 16th.
"I like to make the hard holes harder and the easy holes easier," said the left hander, who has won three Masters titles and the PGA to add to his Open Championship triumph in 2013.
"So when they take 14, which is a very hard par four, and they make it harder and move the tee back, I actually like that a lot because it allows for the players that are playing well to make up strokes on the field by making pars.
"Lengthening 16 is a different matter. It's one of very few birdie opportunities.
"And to move the tee back to 620 yards, which is the total modus operandi of the USGA – they do it every course – I don't agree with.
"I think we should have some birdie opportunities. And to eliminate one of the very few that are out here and make it a difficult par is not something I agree with."
Other US Open controversies
The 2004 debacle was not the first or the last controversy to hit the second of the year's majors.
In 1998, the tournament was plagued by a devilishly quick putt on the 18th. Leader Payne Stewart tapped an eight-foot putt which raced 25 feet by, while Kirk Triplett's putt up the hill trundled back to his feet and he was so frustrated he used his putter to stop the ball, incurring a two-stroke penalty.
"Bordering on ridiculous," is how Stewart summed up the hole location, while Tom Meeks, then in charge of setting up the course, later confessed: "It was a terrible mistake on my part."
Current world number one Dustin Johnson played his last seven holes of the 2016 tournament knowing he had to review a possible rules infringement after the round, despite being initially absolved of wrongdoing.
He was eventually given a one-shot penalty but still won his first major.
England's Justin Rose described the greens at 2015 US Open course Chambers Bay as "like outdoor bingo". He was not the only one, with Henrik Stenson saying it was like putting on broccoli while Sergio Garcia and Colin Montgomerie were also critical.
In 1994, leader Els was granted a free drop from deep rough in the final round because a rules official deemed a television crane on his line was an immovable obstruction.
However, the crane was in fact movable, as proved by the fact it had already moved four times that day and did so again after the South African had played his shot. The rules official later admitted he was wrong. Els would go on to win the title after a play-off.
Article source: http://www.bbc.co.uk/sport/winter-sports/44450880