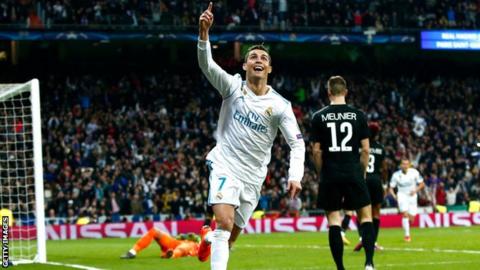 Welcome to the 100 club, Cristiano Ronaldo. Members? One.
With two goals to help Real Madrid come from behind to beat Paris St-Germain 3-1 in their last-16 first-leg tie on Wednesday night, Ronaldo became the first player to score more than 100 Champions League goals for a single club.
The forward has now scored 21 goals in his last 12 Champions League games and 11 in seven this season.
And some people think he is on the decline.
How does he compare to his rivals?
Ronaldo will be pleased with this one. He has four more goals for a single club in Europe's elite competition than Barcelona rival Lionel Messi.
After Messi, no-one is even close to Ronaldo's goalscoring form in the Champions League:
Loving life in the Champions League
Not yet convinced by Ronaldo's Champions League majesty? These stats might persuade you:
Ronaldo has topped the annual goalscoring charts on the most occasions in Champions League history (6).
He is also the only player ever to score 10+ goals in six different Champions League seasons.
Ronaldo holds the record for the most goals scored within a Champions League group stage in a single season (11 goals in 2015-16).
He is the player with most goals scored in a single Champions League season (17 goals in 2013-14).
Ronaldo was the first player to score in all group stage games within a single Champions League season (nine goals in 2017-18).
May as well have a team of Ronaldos?
Incredibly, according to sport statisticians Gracenote, Ronaldo has scored more Champions League goals on his own than 87% of teams to have ever played in the competition.
Including the 15 Champions League goals he scored for Manchester United before joining Real Madrid, Ronaldo has scored a total of 116 in the Champions League. That's 19 more than any other player (Messi, of course) and more than than 118 of the 137 teams that have ever appeared in the main competition.
An incredible record.
'He lives for the penalty area'
Ronaldo's latest two goals in the Champions League were a penalty and a close-range finish. In fact, the vast majority of his goals in the competition have been scored inside the box.
"Ronaldo now has 101 Champions League goals for Real Madrid, and it sounds churlish to say but he didn't have a great game," said Spanish football writer Andy West on BBC Radio 5 live.
"That's what he does now, not the Premier League box-to-box player we saw, he lives for the penalty area, and that's how he can extend his career, now in his 30s."
Benzema – Ronaldo's best mate?
Despite the fact Karim Benzema did not make a single pass to Ronaldo against Paris St-Germain, he has assisted more Ronaldo goals in the Champions League for Real Madrid than anyone else – 11. Gareth Bale is second on the list with seven, with Marcelo on six.
They were Ronaldo's first two goals against Paris St-Germain for Real Madrid, in his third appearance. His most successful opposition for Real Madrid in the Champions League is surprisingly Bayern Munich (nine goals in six games).
He has scored seven against each of Borussia Dortmund, Juventus, Ajax and Schalke – the latter three at a rate of more than one a game.